Ceilometer at the roof of N.C.S.R. station Published: 2014-06-01 13:21 UTC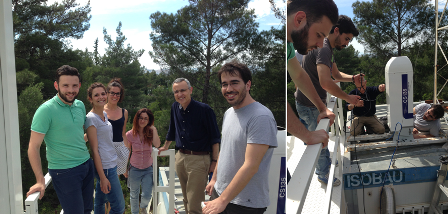 The Ceilometer traveled from the U.K. to Greece for the HygrA-CD campaign. Everyone was smilling when we placed it on the roof of an isobox, located at N.C.S.R. site. The ITaRS fellows Lev Labzovsky, Maria Barrera Verdejo, Dr. Ioannis Binietoglou and myself, Athina Argyrouli, participated to this activity under the supervision of Prof. Dr. Alexandros Papayannis. It is important to mention the undergraduate students, Antonia Pavlatou and Lazaros Paganis, who contributed to the process of mounting the instrument.
The Ceilometer is a CS135 elastic lidar borrowed from Campbell Scientific and it became operational for the purposes of the campaign on May 14th, 2014. The PI of the instrument, Josh Vande Hey was about to visit the site too.